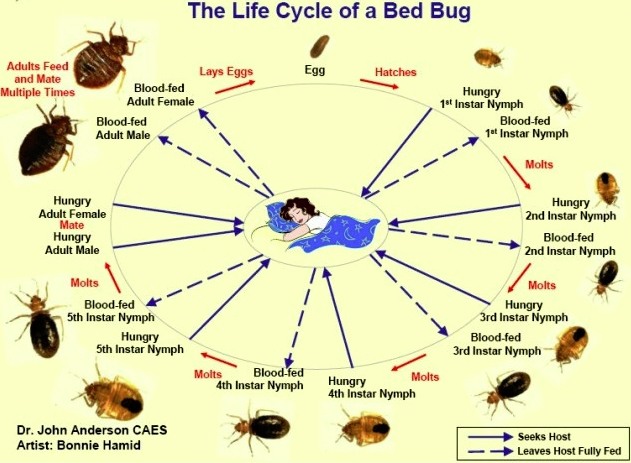 APPEARANCE
Adult bed bugs are reddish-brown, flattened, oval, and wingless, with microscopic hairs that give them a banded appearance. They grow to 4 to 5 mm (one-eighth to three-sixteenths of an inch) in length. Bed bug eggs are tiny, whitish, and hard to see without magnification, as individual eggs are about the size of a dust spec. When first laid, the eggs are sticky, causing them to adhere to substrates. Newly hatched bed bug nymphs are translucent and lighter in color and continue to become browner and molt as they reach maturity. The nymphs are no bigger than a pinhead.
HABITS
Bed bugs have been known as human parasites for thousands of years.
Bed bugs are elusive and usually nocturnal (peak activity usually occurs between 10:00 p.m. - 6:00 a.m.), which can make their detection difficult. They often lodge in dark crevices, and the tiny adhesive eggs can be nestled by the hundreds in fabric seams. Aside from bite symptoms, signs include fecal spots (small dark sand-like droppings), blood smears on sheets, and the presence of their empty molted exoskeletons.
Although bed bugs can be found singly, they tend to congregate once established. Although they are strictly parasitic, they spend only a tiny fraction of their life cycles physically attached to their hosts. Once feeding is complete, a bed bug will relocate to a place close to a known host, commonly in or near beds or couches in clusters of adults. Other areas bed bugs can infest include, luggage, inside of vehicles, within furniture, amongst bedside clutter, even inside electrical sockets and nearby laptop computers.
CONTROLLING BED BUGS
Inspection and treatment to all areas of infestation. Special treatment to mattresses, bed frames, nightstands, electrical wall plates, and all baseboards, followed up with an area fogging to flush out and kill the adults. Our residual treatment kills the adults and their eggs.