RODENT CONTROL & PROOFING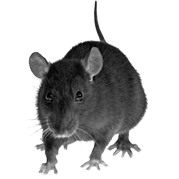 RODENTS: FACTS, IDENTIFICATION & CONTROL
Rodent activity in or around your home or business can present a serious menace to your property. If you're in need of rodent control services, here's what you should know about these pests:
RATS
Instincts: Rats will colonize in attics, burrowing under concrete and porches, in wall voids and other hard to reach places.
Disease: Rats can harbor and transmit a number of serious diseases. They can also introduce disease-carrying parasites such as fleas, lice, and ticks into your home.
MICE
Access: They invade your home seeking food, water, and warmth. Without mouse control intervention, one pair of mice may produce 200 offspring in four months.
Contamination: Each mouse can contaminate much more food than it can consume.
INSPECTION, PROOFING, and TRAPPING
Initially, we inspect your foundation, basement, roof, attic, and all other possible entrance points. Per completion of your inspection, our inspector will give you a free written estimate with all rodent-proofing and trapping procedures. Included with your inspection, is a one year guarantee on all work.